I love this idea! It's not only super cute and will get the guests talking, but it's a great DIY project too. These mini wedding cake cookie things actually come from
Martha Stewart Weddings
, although I found this DIY tutorial on
Lucy Dylan Weddings
. You can find royal icing at any baking shop or try
www.cakedeco.co.za
.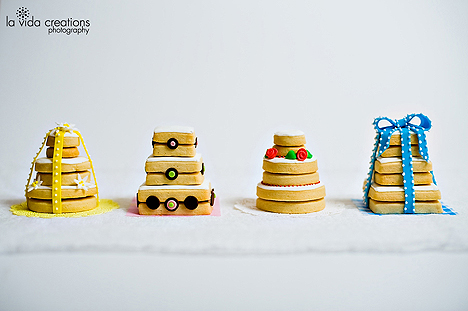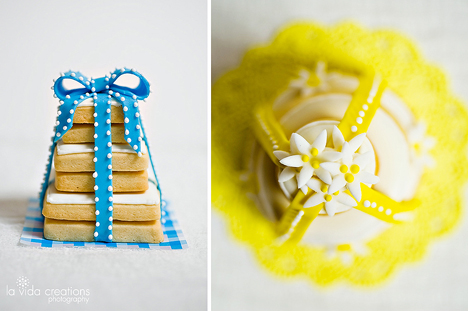 Sugar Cookie Cakes (from Martha Stewart Weddings, Winter 2006)
Makes 64 cookies, enough for 8 cakes
• 8 cups sifted all purpose flour
• 2 tsp baking powder
• 1 tsp salt
• 2 cups unsalted butter, softened
• 4 cups sugar
• 4 eggs
• 4 tsp vanilla extract
• Small store-bought gum-paste or icing flowers (2 cm each)
Sift flour, baking powder, and salt into a large bowl; set aside.
Put butter and sugar into the bowl of an electric mixer fitted with the paddle attachment.
Mix on medium speed until pale and fluffy. Mix in eggs and vanilla. Reduce speed to low.
Gradually mix in flour mixture. Divide dough into 4 pieces; flatten each into a disk, and wrap in plastic.
Refrigerate until firm, at least 1 hour (or overnight).
Preheat oven to 180 degrees with racks in upper and lower thirds. Let 1 disk of dough stand at room temperature just until soft enough to roll, about 10 minutes. Roll out dough on a lightly floured work surface to 0.6c cm thick, adding more flour as needed to keep dough from sticking. Using cookie cutters, cut out 24 x 8cm rounds, 24 x 7cm rounds, and 16 x 5cm rounds. Transfer to baking sheets lined with parchment paper as you work, keeping rounds of the same size on the same sheet. Repeat with remaining dough.
Chill in freezer until very firm, about 15 minutes. Bake until edges turn golden, 15 to 18 minutes. Transfer cookies to racks; let cool completely. Transfer icing to a pastry bag fitted with a small plain round tip. Pipe around top edges of each cookie, about half a centimeter from edge; fill in with a thin layer of icing. Smooth with a small offset spatula. (Reserve about 1/4 cup icing for assembling cookie cakes.) Let set, at least 6 hours (or overnight).
Stack 3 large cookies, securing with dabs of icing in between. Repeat, stacking 3 medium cookies and 2 small cookies on top. Secure a gum-paste flower on top of each cookie cake using a small amount of icing. Repeat with remaining cookies and icing. Let stand until set, at least 30 minutes, before packaging.
Happy baking!
Photo credits: {
lavidacreations.com
}