As a follow up to our
Part 1 on Gauteng's top wedding venues
for 2015, we would like to present you with our next 5 picks for Part 2:
Katys Palace Bar
A rooftop venue in Kramerville, Sandton, that boasts some magnificent views over the city? Industrial chic meets eclectic vintage? Yes please! If you are looking for something different in terms of detail and architecture, look no further than
Katy's Palace Bar
. You will forget you are in Sandton once you step through their doors.
Pic from
katyspalacebar.co.za
Val Bonne
If you are looking for a French country feel then consider
ValBonne Country Estate
in Modderfontein, which was once a farmer's wheat barn. Their stunning stone and wood heritage building boasts French charm, coupled nicely with amazing views over the lawns and the dam. There is a downstairs stone dining area, a cocktail area and an amphitheater.
Pic from
valbonne
Poortjie Saal Venue & Guesthouse
This Heidelburg venue is so unique in that it combines modern/contemporary/industrial on a farm 30 min away from hustle and bustle of Johannesburg. They don't have a website at the moment (they are THAT new – they only joined
Facebook
in August) but the few weddings that have been held there look like fun filled, laid back affairs. The venue also offers accommodation for guests.
Poortijie Saal
is definitely for the bride who is looking for something different!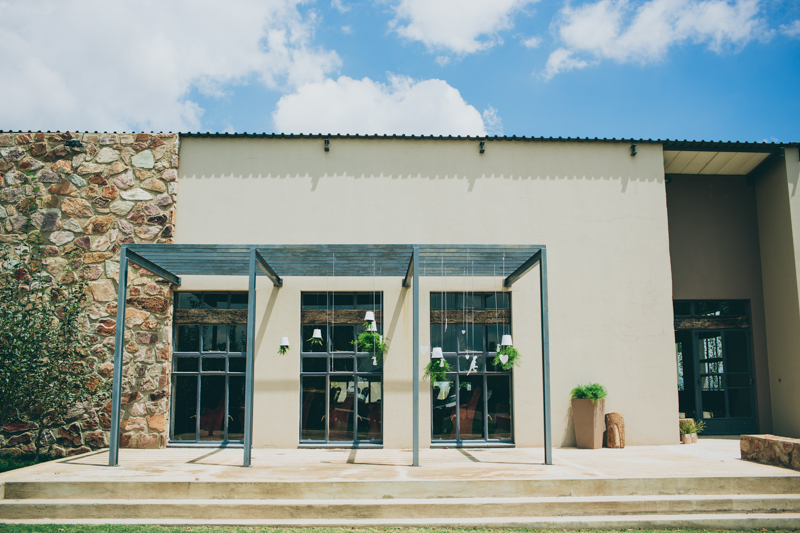 Pic from
Lad and Lass Photography
The Stone Cellar
Another Heidelburg venue makes our list in the form of
The Stone Cellar
, situated on the slopes of the Suikerbosrand River Valley. The original milk parlor has been remodelled into a unique chapel, providing seating for 150 guests on handcrafted church style benches and optional hay bales. The reception area houses glass chandeliers and modern design elements, thus creating a festive farm atmosphere. Together with handcrafted wooden tables, and vintage dining chairs, this venue will appease the bride looking for rustic country charm not too far from the city.
Pic from
thestonecellar.co.za
River Meadow Manor
Tucked away in tranquil Irene and surrounded by oak trees,
River Meadow Manor
, is rich with historical significance as the original Manor House was a wedding gift from General Jan Christiaan Smuts to his eldest daughter Eirene during 1926. The venue has a chapel and stunning gardens. Its colonial charm coupled with its gourmet cuisine makes this venue one to seriously consider.
Pic from
rivermeadowmanor