With 2012 in full swing, it's a good idea to keep abreast of the wedding hair trends for your big day.
Plaits:
With the emphasis on detail, plaits are in and can be executed in a myriad of ways in a way that adds volume. It can be the central point of your hairstyle or just an added detail on the side, combined with your chosen style of choice, like a messy bun. Play with the idea of loose plaits, fishtail braids etc. as well as extensions.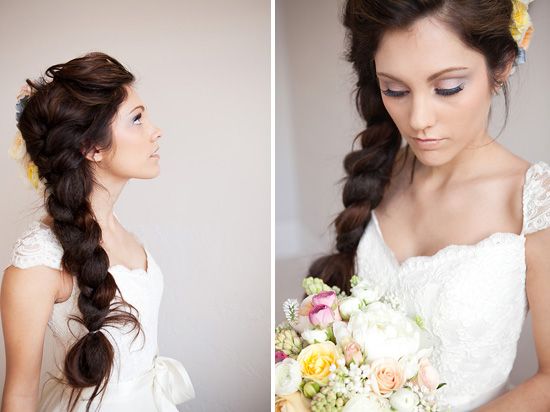 Photo credit:
paigeandchris.com
Asymmetry:
This is big, especially when incorporated with a plait or loose curls.
Photo credit:
projectwedding.com
Vintage:
We're loving the soft, wavy look for brides for hair both long and short. Either with accessories (birdcage veil, sparklies or feathers) which can complement the look, or combined with the asymmetrical trend, vintage hair styles are lovely...and timeless, even for a trend.
Photo credit:
greenweddingshoes.com
Loose curls/waves:
There is something so feminine and youthful about this look, especially when it's a parted style. It should'nt be too perfect either...a little messy and the slightly 'just got outta bed' vibe is perfect for this hair!
Photo credit:
news.instyle.com